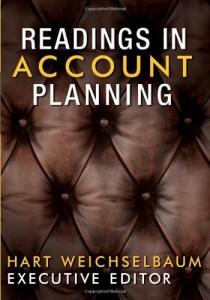 Now available on Amazon.com! "Readings" is an easy way to learn about advertising strategy from thought leaders in the business. It's a compilation of some of the best thinking in the exciting field of account planning. Beginning with Stanley Pollit's "How I Started Account Planning," this great collection includes pieces from John Griffiths, Malcolm Gladwell, Merry Baskin, Paul Feldwick, John Heilleman, and many more.!
---
Below is a sampling of our recent publications and white papers. Many are downloadable as PDFs. Others are available upon request.
Download any of our recent white papers, for free! Just fill out the information below.
Qualitative Market Research
"A Cost-Effective Design for Qualitative Research" — A multi-method approach that maximizes flexibility, depth of insight, and efficiency.
"Collage and Metaphor Elicitation" — A powerful technique for going beyond superficial and rationalized responses in qualitative research.
"Tips for Ethnography Observers" — How observers should behave when they participate in an ethnographic interview.
"The Impact of Technology on Qualitative Research" — Five new approaches that weren't practical even five years ago.
"The Art and Science of Concept Development" — Why qualitative research is ideal for the development new product and service concepts.
"What Qual Does That Quant Can't" — Five features that make qualitative research superior to quantitative in creating competitive advantage.
Brand Strategy and Planning
"Planning the New Business Pitch: A Practical Guide" — A how-to guide for successful planner participation in ad agency new business.
"The Five Dimensions of Brand Definition in Strategic Brand Planning" — Essential steps every business must take in creating a successful brand.
"Ten Housewives in Des Moines and the Assessment of Logo Design" — Presentation to the Society of Typographic Artists.
"Writing Effective Creative Briefs" — An introduction to writing the kind of briefs that drive great marketing communications.